Were you able to receive care close to home?
Context – Inequity in health services and funding for medical travel
Differences in access to health programs and support for medical travel affect First Nations, Métis and Inuit.
For example, some primary health services, and prevention, promotion and community-based health programs are available to Inuit living in their traditional territories and First Nations who live on reserve, but this does not extend to Métis citizens.
Similarly, the Non-Insured Health Benefits (NIHB) program which provides drug, dental and other health services (including medical travel) is only available to First Nations and Inuit.
The NIHB is the main source of financial assistance for medical travel for First Nations and Inuit patients and their escorts; however, the costs permitted under the NIHB program are restrictive and may vary by location.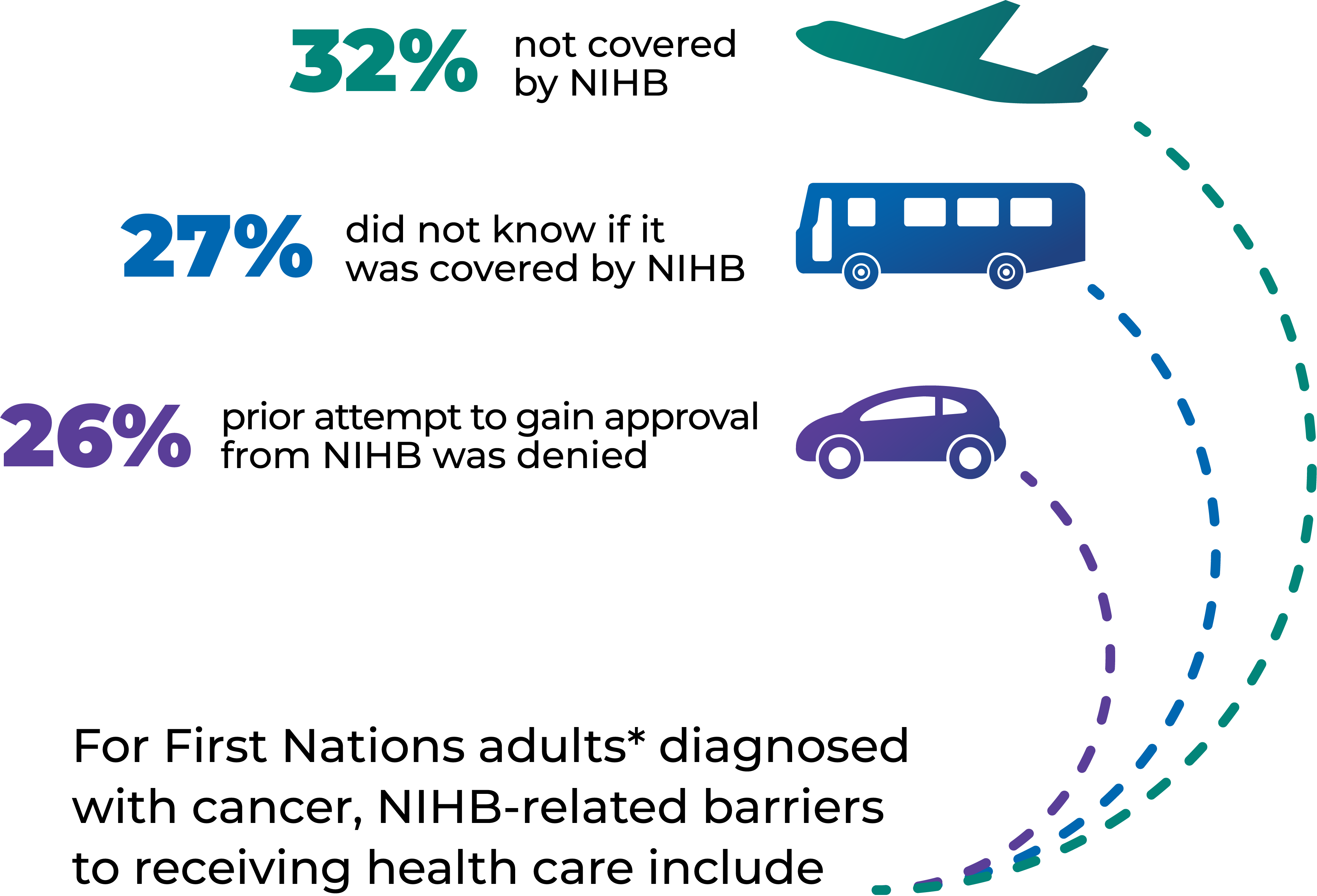 *First Nations adults who live on reserve or in Northern communities
Data source: First Nations Information Governance Centre, First Nations Regional Health Survey (Phase 3, Adult Survey, 2018)
Some Inuit and First Nations can access telehealth to meet with their care provider, but this depends on sufficient internet bandwidth, the provider's commitment to offer telehealth consultation, and receptivity, trust and rapport between patients and their care providers.
Why is this indicator important to First Nations, Inuit and Métis?
Receiving care close to home is the preferred choice for anyone experiencing cancer. However, many First Nations, Inuit and Métis, especially those living in rural and remote locations, must travel long distances away from home for cancer treatment as services are not available locally.
For some, especially in the Far North and in remote communities, there is long-distance travel by plane to access treatment, leaving family, friends and their community for long periods of time. Many are unfamiliar with large cities.
Lack of financial supports for Métis citizens and funding constraints for First Nations patients can result in vulnerable individuals having to travel alone. The travel costs of a family caregiver or emotional support person are rarely covered.
View Indigenous determinants of health
How does this affect care and outcomes?
People who are traveling to seek cancer treatment may need to travel on their own and be away from family (or other supports) for an extended period while treatment is ongoing. Patients are affected beyond the inconvenience and hardship of long travel and the isolation of extended periods away from home for cancer treatment:
Lack of support from family or community and isolation during treatment can result in poor care as there is no one to advocate for the patient.
Individuals who are already vulnerable may face further challenges due to communication and language barriers, concerns about cultural safety or a lack of cultural supports such as prayer, song or traditional foods.
Language and cultural differences, culturally unsafe care, experiences of discrimination and racism, and lack of family, social and spiritual support can weigh immeasurably on an individual who is already experiencing vulnerability and cancer-related symptoms. The result is that some will not attend treatment or return home, leaving treatment before it can be completed.
Unique perspectives from First Nations
Some First Nations adults experience barriers to receiving health care. For individuals diagnosed with cancer who required any health care in the past year, the most common barriers include:
Systemic barriers
Economic barriers
Geographic barriers
Data source: First Nations Information Governance Centre, First Nations Regional Health Survey (Phase 3, Adult Survey, 2018)
Unique perspectives from Métis
The following points represent perspectives gathered from focus groups involving Métis citizens from Saskatchewan. Though there may be similarities, perspectives from Métis citizens from other areas may differ. 
| | |
| --- | --- |
| | Many Métis cancer patients travel long distances to access cancer care. One of the main barriers to accessing care is the travel burden, which involves financial and logistical barriers. This is in part because most of the cancer care is only available in Regina and Saskatoon, and there is no public transportation system. |
| | Many Métis cancer patients and their families are dealing with stress due to high costs of travel to attend medical appointments, or unpredictable transportation to attend and return from their appointments. |
| | The cost of transportation, accommodation and food while traveling to cancer-related appointments make it hard for some citizens to attend appointments, especially those living on social assistance. Some patients shared stories about going hungry during their treatment or sleeping in their cars. |
| | Many Métis patients and families must fundraise to cover costs associated with treatment, and finances restrict where patients can go to access cancer care. |
| | In addition to financial strains, there are logistical barriers such as finding drivers, which can be challenging and expensive, or asking family to take time off work to drive patients to appointments. |
Data source: Métis Nation-Saskatchewan
Unique perspectives from Inuit
Inuit residing in their homelands are probably affected the most by the barrier of long distances to access care. A graphic depiction of this travel is provided below:
The following are excerpts from Inuit patient perspectives gathered in 2010 through the Partnership's "The Truth of It" video series. They describe the stressful experience of travel and the compelling need for the mental and emotional support of an escort.
I live in Kugluktuk and we have to travel from Kugluktuk to Yellowknife, overnight in Yellowknife, then fly on to Edmonton the next day. The travel alone, it's long, you're already worried about, gee, you know, what's going to happen to me…
I had an option of staying in Winnipeg for four months, but I didn't want to do that so I chose to do the three weeks and go for my treatment; go back home for three weeks. So I did that from November to April and then a year from that I had the Herceptin treatment every three weeks. I travelled quite a bit….They did try to get me to have treatment here one time but it was too expensive for the government to send a nurse up here. I got used to travelling and I was so happy to have an escort the whole time. It's more of a mental thing—you don't want to go through this by yourself. No matter how strong you are, it's always good to have someone right there beside you.
How far a patient needs to travel to access care has a profound impact on a person's well-being in the best of times and particularly during the vulnerable time of seeking cancer care.
Towards health equity
Provincial and territorial programs that cover the cost of travel should be consistent so that all First Nations, Inuit and Métis who live in rural/remote areas can receive support to travel to other regions, provinces/territories or to urban areas to receive cancer care.
Caregivers or escorts should have access to transportation programs and other financial supports for transportation, lodging, and meals.
Travel policies for First Nations, Inuit and Métis should be enhanced to support access to escorts and funding for travel, regardless of status or access to non-insured health benefits.
What this would mean for people in Canada
First Nations, Inuit and Métis with cancer will not have to worry about the financial burden of travelling to receive the care they need.
Costs will not limit a patient's ability to able to travel with a caregiver.
First Nations, Inuit and Métis with cancer and their families are supported in accessing comprehensive transportation programs, and the programs are accessible for all First Nations, Inuit and Métis, regardless of status.
The impact of COVID-19: Examples of innovation and resilience
Partnering to bring care closer to home
The COVID-19 pandemic introduced additional barriers to an already difficult and complex care pathway for Inuit undergoing cancer care in Ottawa. Before the pandemic, women who were undergoing breast cancer treatment with the drug Herceptin had to travel from their home communities in Nunavut to Ottawa every three weeks for up to nine months to receive it. With COVID-19 travel and isolation restrictions, patients would have to isolate in a hotel in Ottawa for two weeks, severely restricting the possibility of their going home between appointments.  To address this, Ottawa Hospital worked with its partner, Qikiqtani General Hospital (QGH) in Nunavut, to devise a solution so that these patients could receive their cancer treatment at QGH. Through training, new policy and working with local pharmacies to ensure Herceptin was available in the territory, they were able to put in place within weeks a process which would allow breast cancer patients to receive their care closer to home.
View indicator development process
View ways of measuring the indicators