Using digital health to optimize the screening journey
Learn more about how digital health can enable safe and equitable access to care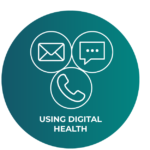 Leverage virtual care visits and virtual triaging to minimize in-person contact with healthcare providers and to ensure the continued promotion of patient participation in cancer screening.
Recommendation 1: Provide virtual care when safe and feasible, especially for those who are immunocompromised and at highest risk for COVID-19 infection.
Key evidence and implementation considerations
Virtual triage can be implemented for new referrals to diagnostic services following an abnormal screening test.
Canadian and international evidence supports the use of virtual care visits, particularly for those at high risk, rural/remote populations, and those unable to travel.
Virtual visits (videoconference, telephone, e-mail, or text) can be used for education and follow-up (e.g., to communicate results and provide counseling after a negative test and for management of a positive test).
Virtual visits can enable health care workers to do remote examinations of the screening participant's condition and share relevant information concurrently without making direct interaction, subsequently preventing the spread of COVID-19. When planning for virtual and digital supports, it is important to consider online formats that make resources accessible to all.
Consider how to make supports available for screening participants whose first language is not English or French.
Radiologists can review mammograms from offsite.
The same legal, professional, and standard of care obligations that apply to in-person care applies to virtual visits.
A screening participant's health, specific needs, existing resources, and circumstances must be considered to determine if virtual mechanisms are appropriate and a safe way to deliver care.

It is important to identify and address disparities in access to and uptake of virtual services, including barriers in access to internet-enabled devices or high-speed internet, experience of lower digital literacy and concerns related to confidentiality, privacy and data security.

An in-person physical exam may still be required, and virtual care is not a substitute for attending the Emergency Department for urgent situations.
Ensure the suitability of the participant and virtual care tool used in the encounter.

The Canadian Medical Association, along with the Royal College Physicians and Surgeons of Canada, created a Virtual Care Task Force who established that, to be effective, virtual care must uphold (and not detract from) the principles of quality care as compared to in-person care.
The following six-dimension concept of quality as defined by the US Institute of Medicine should be applied: safe, effective, patient centered, timely, efficient, and equitable.
Healthcare providers should remain abreast of emerging evidence and tools to support the uptake of virtual care in a safe, effective, and efficient way. For example, guidance was made available by The College of Family Physicians of Canada, the Royal College of Physicians and Surgeons of Canada, and the Canadian Medical Association through a Virtual Care Playbook in March 2020.

In utilizing virtual care technologies, screening participant consent must be obtained, including consent for the use of any photos or email prescriptions to pharmacy. Medical records of the visit should be maintained, transmitted, stored in secure encrypted systems, and available to other healthcare professionals for the provision of ongoing patient care.
Preparation allows the virtual visit to be more professional, productive, and efficient.
Learn more
For more information and references, download the guidance document Management of Cancer Screening Services During the COVID-19 Pandemic and Building Resilient, Safer & Equitable Screening Services.
To learn more about how virtual care is currently being used in Canada and its impact on the overall sustainability of our healthcare system and its potential to improve cancer care, please see this virtual care environmental scan.
COVID-19 resources are available to support and optimize screening restoration.