Increasing access to care closer to home
Explore opportunities in self-sampling for cervical and colorectal screening, and mobile screening for breast screening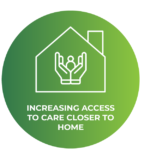 When pursing strategies for increasing access to care closer to home it is important to also acknowledge and respond to persistent systematic barriers to screening. Working closely with communities throughout planning can provide a better understanding of their needs and improve trust in the healthcare system. Ensuring that strategies to increase access to care are aligned with community needs, priorities and infrastructure will lead to improved access to and uptake of screening. Refer to the Guiding principles for further detail.
Implement self-sampling for cervical and colorectal cancer screening to provide continued access to cancer screening and reduce in-person interactions with healthcare providers throughout successive COVID-19 waves.
Recommendation 1: Implement human papillomavirus (HPV) self-sampling for cervical cancer screening, prioritizing populations that are more likely to be affected by COVID-19 related travel restrictions.
Key evidence and implementation considerations
Canadian and international guidance supports self-collection of cervical screening samples at home. Jurisdictions are asked to consider switching to primary HPV testing to enable self-sampling.
WHO guidance emphasizes that appropriate infrastructure and capacity is required for self-sampling for cervical cancer (HPV test).
Implementation of self-sampling will contribute to the adoption of HPV testing as the primary cervical cancer screening tool.
Recommendation 2: Implement or continue mailed provision of fecal test kits for colorectal cancer screening.
Key evidence and implementation considerations
At-home testing with the FIT test is the preferred screening method for colorectal cancer screening and mailed provision of the FIT test is efficient and has good uptake among participants.
It is important to build on existing momentum to advance mailed provision of fecal test kits, while recognizing mailed provision of tests is subject to:

Availability of a registry that includes addresses and screening history
Timely access to colonoscopy
Effective means to coordinate follow-up for individuals who test positive
Review of wait-times from abnormal results to colonoscopy
Needs for case prioritization because of reduced endoscopy unit capacity due to physical distancing, turnover times, scarce personal protective equipment (PPE)
Resume mobile cancer screening services where they are commonly used as sites to offer care in the community.
Recommendation 3: Continue to schedule mobile breast cancer screening clinics that visit communities so women can access breast cancer screening safely.
Key evidence and implementation considerations
Healthy individuals may be afraid or reluctant to travel in from their community for imaging appointments. Data indicates that with proper measures, community screening remains a safe and reliable way to maintain regular cancer screening breast during the pandemic.
Mobile screening units (MSU) need to be modified to ensure COVID-19 safety measures (e.g., proper ventilation systems on the bus).
Consider the state of the pandemic in both the region where the MSU is coming from and going to; when booking MSU, include questions to understand community Covid-19 status prior to travel.
Consider measures to keep MSU staff healthy (e.g. suitable accommodations with kitchen to prepare meals, travel method if required to meet up with the travelling MSU).
Learn more
For more information and references, download the guidance document Management of Cancer Screening Services During the COVID-19 Pandemic and Building Resilient, Safer & Equitable Screening Services.
COVID-19 resources are available to support and optimize screening restoration.